Starting a business can be frustrating. But with the right information, it can be a lot easier than you think. In this post, we will provide you with some of the brightest business ideas to start and grow your company in three different sectors.
Brightest Business Ideas #1 Online Businesses
There are many ways to start and grow an online business. One of the most popular methods is online advertising. You can place ads on websites or search engines, which will bring your business to the attention of potential customers. You can also offer a free trial or subscription service, which will increase your chances of success. Other popular methods include creating an e-commerce website and selling products through this platform, as well as working with affiliate marketing programs. It's important to research the various options available to you before starting your own business, in order to find the one that's best suited for your unique goals and objectives.
Brightest Business Ideas #2 Mobile App Businesses
There are a lot of businesses that can be started in the mobile app space. Here are a few of the brightest business ideas to consider:
-Develop a mobile gaming app.
There is no doubt that mobile gaming is one of the most popular forms of entertainment today. It has become so popular that even some of the biggest names in business have gotten in on the action. In fact, there are now so many mobile gaming apps available that it can be hard to decide which one to start and grow your company with.
First, if you want to create a game specifically for mobile devices, you will need to consider what type of device your game will be played on. There are iPhone games, Android games, Windows Phone games and more. Once you know which platform your game will be played on, you need to decide what type of game it will be. There are action games, puzzle games, racing games and more available for mobile devices.
To be successful you need to spice things up like the Duelit, the popular skill-gaming platform available on App Stores.
Skill gaming is a form of gaming that requires players to have skill in order to win. This type of gaming often revolves around puzzles or challenges that are designed to test the player's abilities. Skill gaming can be found in many different genres, including puzzle games, card games, and board games. The key point is the exact gaming sequence is shown to each player in a challenge or a tournament.
With six popular games that last for a minute and free welcoming cash, Duelit is definitely a good example to follow.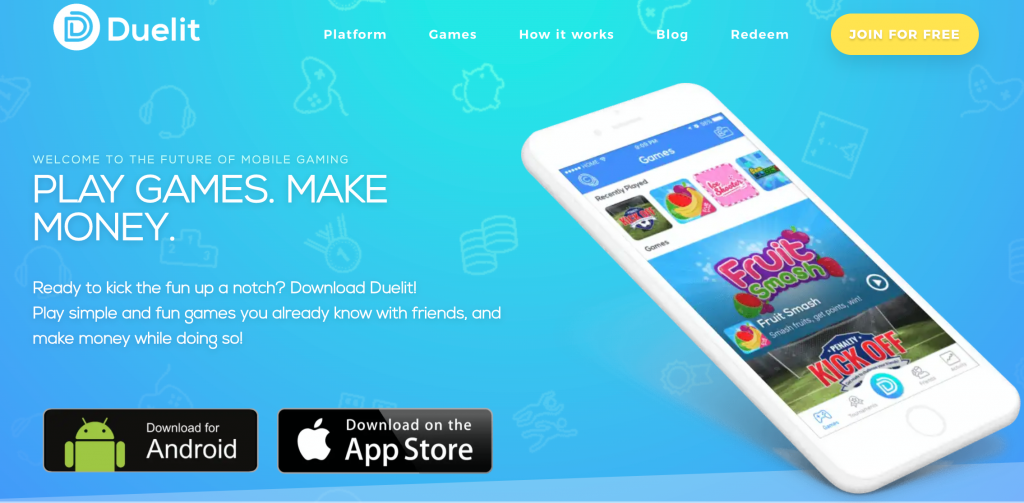 -Develop an app that helps busy people manage their time better.
There is an app on the market that helps busy people manage their time better. The app is called "Time Doctor" and it has been rated 4.5 stars by users. Time Doctor is an app that helps users to track their time, prioritize their tasks, and make better decisions about how to spend their time. The app also has a timer function that allows users to track how long they have spent on each task, as well as a sleep tracker to help users optimize their sleeping schedule.
The Time Doctor app has been designed for busy people who want to be more efficient with their time. It has been proven to be successful by users who have found it helpful in managing their daily lives and improving the quality of their work.
-Create an app that helps people stay healthy and fit.
The current fitness industry is worth over $100 billion and is only going to continue to grow. There are many different ways for people to stay healthy and fit, but not everyone has time to go to the gym or work out at home. There are also a lot of unhealthy foods that people eat on a regular basis.
One solution to this problem is to create an app that helps people stay healthy and fit. This app could have a variety of different features, such as recipes, how-to videos, and advice from health experts. People would be able to use this app whenever they want, without having to go to the gym or spend hours working out at home.
-Develop an app that helps people find new jobs.
There are a lot of job seekers out there who are looking for new opportunities. But finding the right job can be difficult. Wouldn't it be great if someone could help people find new jobs? That's where an app like this comes in.
This app would allow users to search for jobs and post their resumes online. It would also provide advice on how to improve their resume and interviews. The app would also provide tips on career growth and networking opportunities.
If developed correctly, this app could be a huge success. People would benefit from having access to a wide range of job resources, and businesses could find new employees easily.
Brightest Business Ideas #3 Service-Based Businesses
There are many bright business ideas for service-based businesses. One example is a home health care company that offers chronic care management to elderly or disabled individuals in their own homes. This type of company could provide a valuable service to the community and could grow quickly thanks to the growing population of seniors and people with disabilities. Another bright business idea for a service-based business is a dog walking and pet sitting company. This type of company can easily grow by servicing new areas or by partnering with other pet-related businesses.
The possibilities are endless when it comes to finding the brightest business ideas for service-based businesses. The key is to brainstorm different options and find ones that fit the unique needs of your business.
These are just a few of the many business ideas that are available to entrepreneurs today. With the right planning and execution, any of these businesses could be successful and bring in profits for years to come.